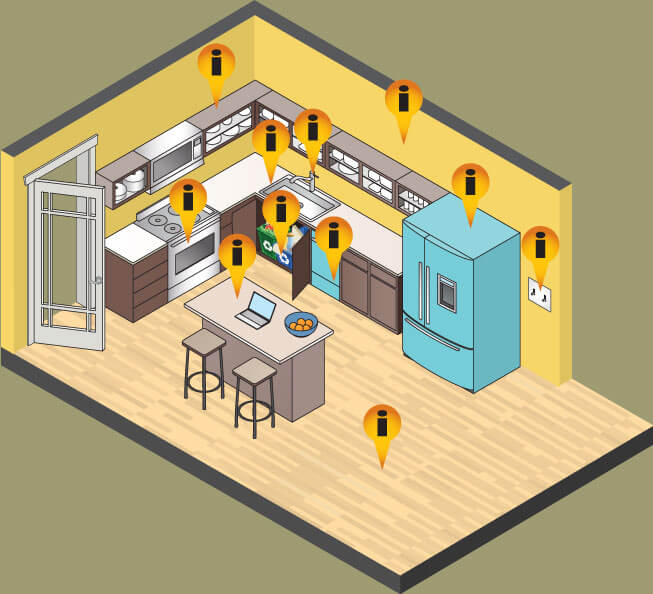 Kitchen Eco-Tips
Select the

icons to get remodeling tips for each area of the room.
Kitchen Sink
Find antique sinks at building salvage yards to save money and create "instant history" and match the period of your kitchen.
Consider cast iron and stainless steel sinks: both are available used and are highly durable and recyclable.
Consider your countertop materials, which can impact the kind of sink you install.
Seal any gaps around plumbing penetrations if your sink is above an unheated space or on an exterior wall.
More information
Kitchen Faucet
Check your faucet flow rate before considering a new one.
Refurbish your old faucet with a faucet repair kit to 1.5 gallons per minute.
For new faucets, look for the WaterSense label to ensure efficiency and performance.
Choose faucets that come with a lifetime warranty.
More information
Cabinetry
Consider refacing or refurbishing existing cabinets before purchasing new ones.
Rethink your layout. Consider adding shelves within the cabinets or converting cabinets to drawers.
Shop for salvaged cabinetry at many of the local building salvage and supply stores.
Give preference to solid wood or plywood cabinet boxes rather than particleboard or conventional medium density fiberboard (MDF) that typically contains urea formaldehyde.
More information
Dishwasher
Choose ENERGY STAR appliances for your kitchen – these save water and electricity.
Dishwashers use 1/5 the water of washing dishes by hand.
Use energy and water saving cycle/setting whenever possible.
Recycle your old appliances.
More information
Range/Oven
Choose ENERGY STAR appliances for your kitchen – these save water and electricity.
Consider a highly efficient induction stove top.
Look for gas ranges and ovens with electric ignition.
Use the range fan whenever cooking with a gas range.
Recycle your old appliances.
More information
Countertops
Evaluate whether you can simply repair or refinish your old countertop, instead of replacing.
Look for salvaged countertops or repurposed butcher blocks.
For new countertops, prioritize durable, easy to clean materials with natural or high recycled content that do not contain toxic or petroleum-based substances.
More information
Kitchen Flooring
Always use hard surface, water-resistant flooring such as protected wood, tile, or natural linoleum in areas prone to wetness, especially kitchens.
Choose flooring products that can easily be maintained.
Choose flooring options that allow for partial replacement instead of whole-room replacement.
Seek alternatives to vinyl.
More information
Kitchen Lighting
Replace all incandescent light bulbs with LEDs or CFLs.
Install ENERGY STAR-labeled light fixtures.
Follow the advice for "right lights, right place" to direct task lighting as close as possible to the places you work most in your kitchen.
Choose a variety of fixture types and controls to optimize your light quality and also reduce the "all or nothing" of some kitchen lighting schemes.
More information
Refrigerator
Choose ENERGY STAR appliances for your kitchen – these save water and electricity.
Use your appliances according to the product manual to optimize efficiency and effectiveness.
Size matters – choose your fridge according to your needs so you do not waste energy.
Recycle your old appliances.
eco-remodel-kitchen.asp#refrigerator"> More information
Recycling and Composting Center
Know which materials are curbside recyclable and compostable in your city or area and design your recycling/composting centers with this in mind.
Check your waste hauler's website for information on what is collected.
Make recycling convenient by creating a recycle center in your kitchen, and by placing recycling bins in other areas of the home where recyclable materials are generated such as the home office.
Keep a food scrap collection container in your kitchen, line with compostable bags, and empty regularly into yard waste cart.